Business
Breakbulk, Multi-purpose Vessel
From the dawn of company's history, we provide our service network with our largest scale and volume capacity in this region. By providing more than 30 sailing frequencies every month with Conventional type, RO/RO type and 120 tons heavy lifter vessels, we cover such countries as Philippines, Indonesia, Singapore, Malaysia, Thai, Vietnam, Myanmar, Bangladesh and India, for main cargoes as steel products, plant project, construction machinery and plywood cargoes.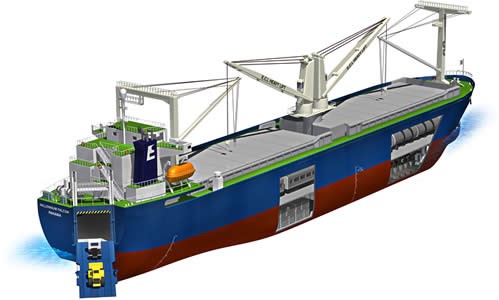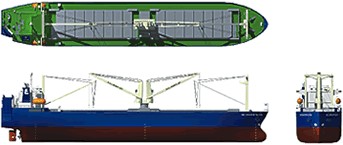 Another symbol of Eastern Car Liner for transporting heavy loads by sea is Multi Purpose Vessels(MPV). The MPV is equipped with a large rampway to load heavy vehicles, and with 40-ton tandem hydraulic cranes to handle heavy loads of up to 80 tons with safety and speed. Furthermore, the series of ships being built after 1991 proved the capacity of tandem hydraulic cranes up to 60-ton each, for a combined 120 ton safe lift.
Our MPV is one of the largest freighters sailing in Asian seas and features a speed of 16 knots, has large hatches measuring 30 meters by 12 meters, and deep holds up to 11.9 meters high to load plant equipment and other special kinds of cargo. Its decks are strong enough to safely carry heavy vehicles. With the proper combination of the above mentioned features, Eastern Car Liner provides safe and speedy transportation to our customers.
BREAKBULK, MULTIPURPOSE GROUP
We provide regular liner services deliver steel products, general cargo, construction machineries, project cargo and plant equipment from Japan, China and South Korea to Asian countries.
Considering ASEAN Economic Community which has been organized from Dec, 2015, we regularly operate vessels with 120T cranes to ASEAN member countries.
We place Japanese staffs and local staffs in each Asian country to satisfy needs of customers with special services such as multimodal transport.
To any destinations or with any cargoes, "let us take care of them." We are sure we can safely deliver them in the best way.
As for return voyages from Asian countries, we handle operational services in Singapore, the center of Asia. Since we are close to a place of shipment, we can timely accommodate our customers' requests.
We provide liner services from Indonesia and Malaysia with plywood, pulp and biomass resources.
In addition, we also provide tramper services from India and Asian countries with bulk and project cargo.
AMERICAS DEPT.
ECL began serving North America in 1995 with multi-purpose breakbulk vessels from Japan to the West Coast of USA and Canada. Over the years the services have expanded and adapted to changing market conditions, and the needs of various bulk, project and oversize cargo. Today ECL has monthly voyages from Japan to Long Beach, Vancouver BC and Everett. ECL's other services throughout Asia allow for feeder connections from and to many Far East and South Asia points. We also have space charter arrangements with our Partner Rickmers for USA Gulf and East Coast destinations.
ECL Americas is also a US Dept. of Transportation licensed truck broker specializing in heavy and oversize trucking nationwide, combined with port handling and supervision.